Spectacular violinist coming to Canadian stages starting in Vancouver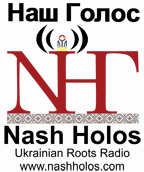 One of the performers traveling across Canada this month with The Talents of Ukraine 2011 show tour is contemporary violinist Innesa Tymochko. Now a New Yorker, Innesa originally hails from Lviv, Ukraine where she studied music and launched a musical career that had her performing on stages throughout Europe.
In a recent interview on Nash Holos Ukrainian Roots Radio, she revealed that she was a child prodigy at age 6. While she studied classical violin, she was also enthralled by the beauty and power of traditional Ukrainian folk music. In fact she was so drawn to it that she developed her own "fusion" style of contemporary Ukrainian folk music.
With charming candour, she admits to an abiding love of Ukrainian folk music, the stage, and pleasing audiences with her music. This woman's joy of performing shines through the minute she first pulls the bow across the strings. She'll then take you on a musical journey that is guaranteed to pluck the heartstrings of any Ukrainian folk music lover.
This will be Innesa's first trip to Canada and she is very excited to be part of this tour. It starts out in Vancouver on Tuesday, October 11 at the Vancouver Center for the Performing Arts. After that it's on to Vernon for a Wednesday evening performance, then to other points east, wrapping up in Montreal on October 25.
If you haven't bought your tickets yet, don't wait a minute longer! This will be a show you don't want to miss.
Along with Innesa, you'll be delighted with the performances of two outstanding singers from Ukraine as well as the spectacular Donbas Song and Dance Company of Ukraine.
Innesa has her own website which is www.innesa.com and you can read more about her and order her CDs there.
Meanwhile, I found few YouTube videos of Innesa performing. They'll give you an idea of her onstage charisma. But there's nothing like the real thing! So I hope you'll join me in seeing her perform live on stage in Vancouver... or at a venue close to you.
Nash Holos Blog
Friday, October 07, 2011