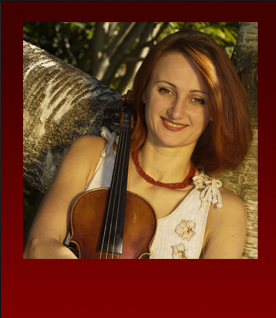 A Ukrainian violinist Inna Tymochko has been a life·long student of musicology who has dedicated her life to the art, while perfecting her musical talent, She began studying the violin at the age of six with the legendary Halyna Ivanina Kubij, and continued her studies at the Lviv Musical Conservatory which she completed with High Honors in 2001. She thereafter continued her studies independently throughout Europe, studying privately under internationally recognized virtuoso violinist Professor Fisher in Hanover, Germany.
While studying classical music, Ms. Tymochko was enthralled by the beautiful and powerful Ukrainian traditional folk music. In fact, she was so drawn to traditional Ukrainian roots that she developed a fusion style of performing traditional Ukrainian folk genre on the classical string instrument - the violin. The blending of the rich Ukrainian melodies with the classical performances has captivated Inna's audiences. This new and inventive style has gained a lot of recognition from both the classical and traditional critics.
Leading artists and musicians worldwide continue to seek additional knowledge, for their own self-growth and not because they require any additional expertise. The complexity of classical music requires a true musician to understand the extensive history behind the music and ceaselessly convey the intricacies of it to the listeners. If the audience is captured by the music and appreciates what is performed, the musician has truly been successful.  Ms. Tymochko has been captivating audiences with her talent all over the world.
Ms. Tymochko's educational and musical background is truly impressive and unusual.  She combines formal musical techniques and combines her unique individual style to each of the musical concerts she has been commissioned to perform. As a Classical Violinist, Inna is certified under Ukraine's musical system as a concert violinist and instructor. Ms. Tymochko's responsibilities encompass a multitude of capabilities, which require her to:
Play classical musical compositions, by using knowledge of harmonic, rhythmic, melodic, and tonal structure and other elements of music theory;
Select suitable instrumental music for various types of concert performances:
Teach, lecture, and instruct in music theory and composition;
Arrange arid write sheet music for accompanying musicians.
Ms. Tymochko's awards are a testament that her work is of superior caliber.
She has received scores of awards, certificates of recognition, and won laureate status among her peers, a few of which are attached herewith.
Ms. Tymochko has traveled throughout the world performing. continuously being praised by experts internationally for her musical talent, which coupled by her charm, self-confidence, humility and charisma, have given her featured performer status at many concerts, festivals and benefits. Earlier this year (2005), Ms. Tymochko was a featured performer at the internationally acclaimed "Eurovision Awards" (Europe's parallel to America's Musical Grammy Awards) held in Ukraine's capitol, Kyiv. She performed several musical compositions, including her renown version of Vivaldi'5 "Storm." She has performed at concerts, banquets, festivals, on television, radio, and in theaters throughout Europe, including Belgium, Spain, France, Netherlands, Portugal, Austria, Serbia, Czech Republic, Poland, Slovakia, Germany and Chernohirja. Due to her experience performing in large music halls, and her creative abilities, she has performed during the recent elections on behalf of Ukraine's (present) President Yushchenko, at the Independence Square in Ukraine's capital, Kyiv, and was a prominent stage figure during Ukraine's "Orange Revolution."
In 2003 and 2004, Inna toured with a vocal and instrumental ensemble "Ukrainian Bardy," where she was the featured violinist. Ms. Tymochko was also invited to participate in the prestigious Harvard Ukrainian Summer Institute. She was one of the featured performers of the Ukrainian Colors Folk Ensemble as part of the Harvard Summer School's Visiting Artists Series. Ukrainian Colors is a vocal and instrumental folk ensemble from Kyiv. Among the instruments used will be modern and classic bandura, violin, hammer dulcimer, pan flute, folk flute (sopilka), bass sopilka, block-flute, bells and zozulia.
Ms. Tymochko has three (3) solo CD's recently released, in which she not only performs, but in which she also provided musical arrangement and chose her supporting musicians. Her most recent CD release, entitled "Storm", was followed by a music video promoting one of Vivaldi's most famous compositions. It is this music video, broadcast not only on television in Ukraine, but also throughout Eastern Europe, which has gained Innesa (as she is referred to professionally), recognition outside of Ukraine's political boundaries. Ms. Tymochko's video credits include not only her virtuoso violin performance, but also as a producer and casting director of her music video. She records studio tracks and noted record producer Pankrat where she has played background and supplemental music for a variety of famous musicians, lnna routinely travels and plays with the musical collective of Volodymyr Skirko, entitled Lira, throughout Ukraine and Europe.